Instagram has become one of the most used social media platforms for conversations, product promotions, moms sharing their lives, thoughts and kids lives.
Instagram micro-influencers are on the rise especially in countries such as India. Is this because of the infiltration of the Internet, smartphones? No idea. But I do know that Instagram has started defining how people have been making purchase decisions.
What surprised me was that people were using Instagram to find products for their kids ( such as books, quilts, clothes, hairbows). I also found that skincare being sold via Instagram was also quite popular.
How to Start a Mom Blog on Instagram? Get a verified Business Account and link it to a Facebook Page. Chart out a Content map on what you want to blog about and what your schedule will look like. Decide on at least 3 themes of posts. Decide on fonts, image styles, the basic theme of the posts. Save a list of hashtags which you feel target your audience for quick copy and paste.
Can you get paid from Instagram?
Yes, there are people making a full-time income from Instagram. This is just not celebrities but also stay at home moms, college kids, teenagers, child models, cats and dogs (well their owners actually).
People are paid in kind ( free products, services and coupons), in cash and also get invites to attend fashion meets, store openings, television shows.
Money is kind of a relative term in this industry. There are many people who are just in it for the FREE stuff.
There are others who crave the publicity, the chance to be at Trade shows, event launches and fashion shows.
There are yet others who have learnt how to get the best of both worlds ( so to speak). They get paid to attend events and paid to post pictures, share stories.
Businesses have creative units or work with creative agencies with dedicated budgets just for Social Media Influencers. This is a billion-dollar industry and growing.
What makes Instagram important for companies to invest in is the ROI whether in brand awareness, push in sales or the reach.
I have a few interviews with Instagram influencers which you might want to check out.
How Stay at Home Moms Can Make Money
When I decided to stay at home I never knew how difficult it would be. People kind of take you for granted. Well she stays at home…
I researched a lot on how to make a side income from home. Well, I found not one but many ways and have dabbled in many.
This blog is a passive income generator for me.
Meet other bloggers making money from their blog. Some have just started and some are making more than they made with their day job. My income updates with this new blog of mine are at the bottom of this post.
Another income source is selling books on Kindle, and being a Vlogger.
I had been using Instagram and Pinterest as a source of research and for connecting with potential clients.
Quickly I realised this is another great way to generate passive income. I have managed to interview quite a free mompreneurs who are earning a living on Instagram, do check them out.
Start a Blog on Instagram
To start a blog on Instagram first create an Instagram Account. Select a Business Account.
Instagram had two types of accounts Personal and Business. They have recently rolled out a new type of account which is called Creator.
So if you are a creator of content, switch your account to the creator. As a Blogger and influencer on Instagram, you should be selecting the Creator option.
To switch between different types of accounts and to setup your account browse to the Settings -> Account section.
Then select the best category for your account. For me it is Blogger.
Next, approve whether you want your contact information and category to be public.
That's it you are done.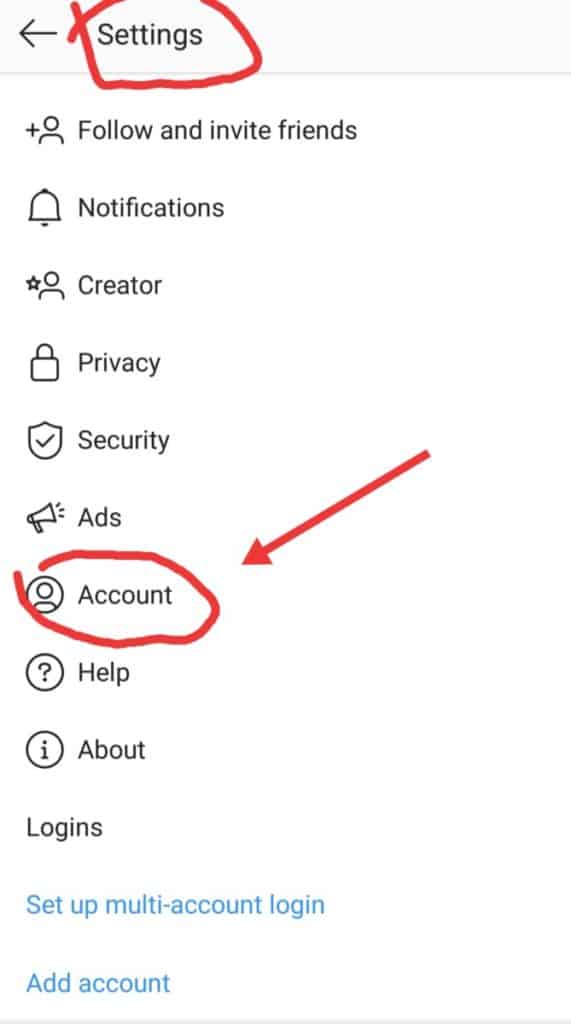 Difference between Creator, Business and Personal Accounts on Instagram
A Personal account is simply for personal use. It does not really help much if you have a business or want to become an influencer.
When you switch over to a business account you get access to a powerful Instagram feature, the Analytics.
Analytics data is a powerful tool at your fingertips.
You get access to information about how well your posts are performing, what the impressions are, what their reach is, what actions were taken by visitors.
You also get access to demographics, the age, the location of your visitors.
The most important bit of information for me is when they are actively engaging with my insta posts and stories.
I find my best time(s) are 11 am and between 8 to 11 pm
What this helps with is to find the best times to post my content for maximum engagement.
Setup your Instagram Profile
You now have created an account. It is time to optimise the account bio. There are three areas you must optimise.
Image or headshot
Bio or description
URL
Image
It is very crucial to use a good picture for your Instagram profile image. Unless you are a brand, it does not make sense to use a logo as an image.
With big brands, we do recognize logos and it makes sense to use the logo as the Instagram header image.
As a content creator, blogger, influencer it is better to simply use your own picture.
People connect with pictures and would rather connect with a human than with an obscure logo.
Add a great bio
I always look first at someone's bio, and I bet you do too. Spend some time and add some keywords in your bio.
This makes the bio searchable and also helps people understand about you.
Add hashtags in your bio. This makes your profile rank when people search for hashtags on Instagram.
URL
Add a call to action in your BIO – to the URL. Give a reason for someone to click through to your link.
I do not have many followers on Instagram, nor do I post often. I use Instagram to connect with a targeted group of people ( more like a chatting interface).
Still, I get more clicks on my URL than other big Instagrammers do. I have been speaking with other people who mentioned they don't get many clicks but they still post.
On Instagram there is only one place to place a link and that is the URL. Make that count and give people a reason to want to click through.
Share stories, share insights, invoke emotion and mention that the entire content ( blogpost, video, PDF, Cheatsheet, Guide) can be located in your bio.
What to Post on Instagram
The trick to growing your Instagram page is having a strategy in place. My strategy was initially like most others… I just wanted to be on Instagram.
Your purpose should be clear and written down. Not just being on a platform because others are on it.
Over time since I changed my why… my instagram account started attracting people.
I have tied it down with my Blog. I am trying to stop posting irrelevant content and making every piece cohesive.
To do this I had go back and decide on what I wanted to share and how.
My why…
I want to help bloggers, vloggers and small business owners start and grow their business.
How…
By sharing useful articles, videos, marketing tips, advice, cheatsheets and recommending products which will help them achieve their goals.
It gets simple now to come up with Instagram post ideas.
All your posts must support your why. The content format has already been defined in the how part.
Decide also on the type of emotion you would like to invoke – Inspire, motivate, Love, Fear?
Bring this emotion into your content.
While I do not do this often but when I do share inspirational quotes and messages I get the most response and appreciation.
Pick 3 emotions you would like to convey. Pick pictures which convey that emotion. Create content which evokes that emotion.
Post the highest and best quality content you can. Share images and utilise the 500 character space to write your thoughts.
Use hashtags to get noticed and found. Tag friends and bigger accounts to get into their tagged feed.
Many bigger accounts check who tagged them and sometimes will share your post on their account. This gives a major boost to your account.
How to Grow your Instagram Account Organically
Connect and promote your Instagram handle wherever you can. Share it on your business cards, on your blog, on your Social Media pages.
Claim your Instagram account on Pinterest, this helps people find you and connect with you.
Connect your Facebook page to Instagram. When you do this you can connect with your friends on Facebook.
Protip: Disconnect and reconnect your Facebook page once a month. This will let you know of new people to connect with.
Mention your account in Vlogs on podcasts. Basically you need to publicise your account as best as you can.
How to Become a Mom Influencer on Instagram
How to become a Brand Rep on Instagram
Writing a Blog on Instagram
Please Share this pin and Support this Site