If you are looking for handmade skin care products you get to meet an exceptional lady in this interview. Her journey to solve her skin issues culminated in starting her very own Skin Care business.
Read her interview and try her products which are all handmade with no chemicals. Also her products are ISO certified.
Join My Team
I am on a mission of helping 10,000 women gain financial security. Join my team!
Learn Skin Care from an Expert
Learn how to create 21 of our best-selling retail-ready skincare & haircare recipes
Learn how to create waterless recipes and preservative-free recipes
Learn about raw and vegan ingredients knowledge
Learn how to create water/oil recipes with emusifying wax
Learn about an eco-cert approved preservative you could use in your w/o recipes
Learn about DIY microbial testing for w/o recipes
Learn about sourcing and purchasing ingredients, trends and what to look for
Learn how to create solid eco-friendly skincare bars
Learn how to launch your natural skincare products into retail
Learn about waxes and vegan wax alternatives
Learn about human skin basics and skin conditions
Learn about The Dirty Dozen Toxic Chemicals in skincare
Learn about Hero ingredients in skincare products and why you need one
Learn about cold-pressed carrier oils in skincare
Learn about clays, butters and botanical extracts in natural skincare
Learn about packaging and labelling for retail
Learn about branding and value propositions
Learn about marketing strategies for your small business
Learn about product liability insurance
Learn about distribution channels and strategies
Learn about pricing strategies and how to calculate COGS
Learn how to pitch to a retail buyer
Learn how to craft a mini-marketing plan
Certificate of Completion available from Nuworld Botanicals
Tell us about yourself and what you do?
I have studied in Bangalore and worked for 4.5 years in an accounting firm after which I decided to start my own business.
Why did you get started with this business?
I have been suffering from extremely dry skin and no matter what lotion I tried I would still feel the irritation in the skin.
Hence, I looked up for home remedies etc and came across many websites that teach you how to make your own moisturizers, skin products.
I learnt a lot about different carrier oils, butters, essential oils and started formulating my own recipes which actually worked. There were no side effects and these homemade creams were really effective on my skin.
If you want to start a skin care business you need licences. Both soaps and skin care products fall into a similar category.

Read to understand what are the legal issues regarding manufacturing and selling of skin care products.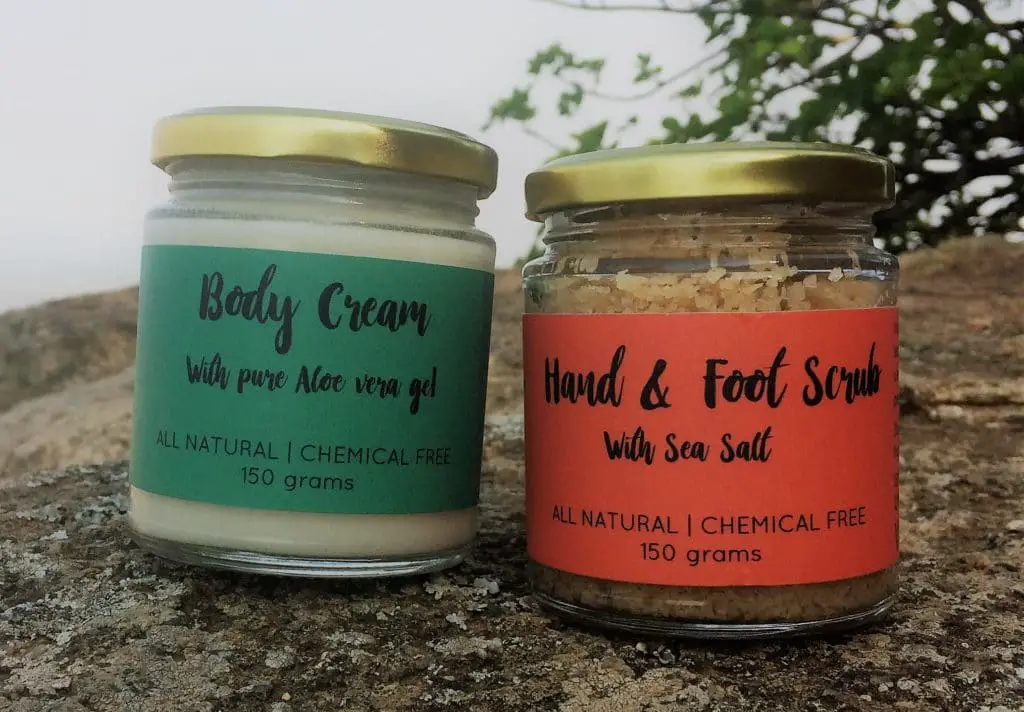 Soon after that, I started making other products like hair serum, lip balm, lip scrubs etc and gave away to my friends to try. They fell in love with all the products and still use them.
I also make candles and there are few which are listed on the website 
[su_highlight background="#fffe99″](use Coupon Code Latha to get 10% OFF)[/su_highlight] . The candle making started as a hobby and it worked like therapy.
This lady started a soap business at home and she has offered soaps in Beauty contests.

I have an exclusive interview with the founder of Cape of Good Soap on how start a natural handmade soap business in India.
I really enjoyed making them every weekend while I was still working and later decided to include them as well in my website.
How long have you been at it?
Its going to be a year in May 2019 since I started the business and more than 2 years since I started making my own products.
How do you make time to make the products?
I do this full time so I have time to make all the products.
Do you have a schedule? Do you have help?
There is no schedule as such. I make my products in fresh batches every two weeks/every month etc. I don`t have a fixed help but whenever there is a lot of work I call one help who takes up some work.
How many hours per day do you spend on your business? 10 – 12 hours
What motivates you to keep working on it?
I am really passionate about what I do. [su_highlight background="#fffe99″]Being your own boss[/su_highlight] and working by yourself is a great feeling.
It motivates you to keep working hard because this is something that you have created yourself and you want to see it grow.
How do you balance Life and Business?
I love what I do so I never feel that I am working at all. Its a part of my life and I enjoy it. Since I work from home, I have enough time to take care of myself, my food, my lifestyle etc
So you quit working?
I was working in an MNC. It was impossible to do a job as well as run my own business. I had to quit in order to do my business properly.
On an average what is the investment required for such a business?
This kind of business will roughly require [su_highlight background="#fffe99″]upto INR 2 lakhs[/su_highlight] to procure all materials and the legal documentation etc
By how many months can we see profits?
It totally depends. There is no fixed timing. The amount invested will take sometime to come back. I would say minimum one year.
Is it easy to get raw materials? How much would these cost?
Some raw materials are easy to get. However, for some of them, I had to do a lot of research. They are priced well enough that you can make profits out of them.
Do you earn from your business?
Yes, I have recently started earning enough to cover my expenses.
How do you price your products?
The price should cover all your expenses and leave you with a margin good enough that you can resell them as well. If you don`t keep good margins then reselling will be tough.
How much do you spend on your business?
There are no fixed costs. The main expenses include buying materials as and when they get over.
Any tips for people getting started with an Instagram business?
Instagram is a great platform for businesses. It does get traffic to the website. It's important to post relevant content regarding your business on a consistent basis in order to hold on to the followers. It's also very important to post the content that is relevant to the followers in order to gain engagement. Using the right hashtags helps a lot to target the right audience.
If you were to start again what would you do differently?
I would have tried to enter other marketplaces from Day one instead of focusing on selling just from my own website. It's important to reach a wider audience and that`s possible only by listing your products up on as many websites as possible.
Can you tell us about your products?
All my products are handmade. The skin products are 100% natural without any chemicals, preservatives etc. They have shown great results for my customers. A lot of them have come back to purchase again because they loved the products.
Any other thoughts? Its very important to plan things well in advance and be consistent with your work.
Vishisht Lifestyle products are available on Instagram and on her website https://vishisht.com/
P.S. [su_highlight background="#fffe99″](use Coupon Code Latha to get 10% OFF)[/su_highlight]