Looking for free business advertising? I have been helping business owners market their business for free.
How to Advertise your Business online for free? It is very easy to market your business for free.
Use Google Listing
Use Classified Sites
Use Social Media
Create a Blog
Here is how we do it. You can copy our strategy as it works. If you want the step by step spreadsheets and video tutorials (at $19) email us at disha.serve@gmail.com
Free Local Business Advertising
The very first thing we set up is Google my business listing. This is so essential for local businesses. We generate a lot of business using this method.
Free Advertising on Google
Google has made it very easy to get free traffic for business owners. We have noticed that many local businesses do not use this feature. This is good news for you, as the competition in certain niches is very low.
Here is how to do this Ste-By-Step
Step 1: Go To Google My Business
Go to Google My Business and click on sign in.

Step 2: Enter the Name of Business
Enter the name of your business. Read and Agree to the Terms and Conditions if you are okay with them.
Tips
Include your Business Name here. This is the name you MUST use as is with no changes everywhere when you set up business profiles. So make sure this is correct.
Include search terms or keywords someone can be searching for while searching for your business or service. Do not keyword stuff but you can make it meaningful. Most brands just use their brand name. But local business use a keyword such as "Corporate Training" in their business name.
Step 3: Select a Category
Select the best category for your business. Check my video to understand how to find the best category for your business.
Step 4: Do you want customers to visit your office or Shop?
If your business is purely virtual or online select No. If you have a shop or office and service people at that location, select yes.
Step 5: Where do you serve your customers?
Enter where you serve your customers. Start typing in the city or state and it gets auto-populated. You can edit and change these later.
Step 6: What region is your business based in?
What region do you operate in?
Step 7:
What contact details do you want to show to customers? Help customers get in touch by including this info on your listing. You can decide what you want to be shown here. The more information the better but if you don't want to display certain data, you don't need to.
Step 8: Please enter your mailing address to verify
Enter your mailing address and make sure you are there at that address to receive a postcard. We lost it a couple of times so make sure you have someone around to receive the postcard, else the process gets super delayed.
Enter the pin and verify your business when you receive the pin.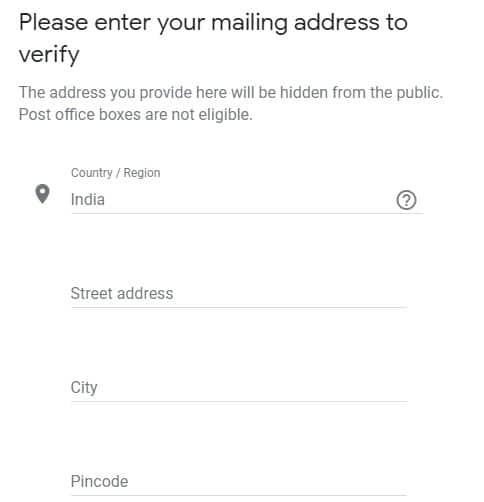 That's it. Now you need to wait for the snail mail with a pin. Enter this pin into the verification box and you are set.
Once you enter the pin your business will be live on Google. You will also be able to view in the backend in business.google.com
Now you need to optimize the listing.
Add as much information as you can about your business. Add images, blog posts. Images make your listing stand out and all the images you upload are available in Google Images. Hence watermark your images, and rename them with some keywords and your business name so that they can help your ranking in Google.
You can also opt for the free website provided by Google. I have noticed that this website ranks in Google and the posts you share in this free website rank as well.
I also share youtube videos and information which would help my target audience, including statistics, business information, and news.
To update your locations you need to go to Google my business locations
You get tons of information on your dashboard.
You can get information about the Performance of your business. You will receive emails about how many people found you in search, visited your location and called you.
Get Post Insights
Share posts online and keep track of what is working and what isn't. You can learn more about post insights on Google.
Where to advertise online for free
The most effective strategy when we started out was using classified ad websites. Most people think that classified ad websites are old and are not effective.
We still use classified advertisements and they still work for us. We run two kinds of advertisements.
Local Classifieds and newspaper ads
This is again something most marketers do not focus on. I think it is something to do with new technologies. People forget that old technologies or lack thereof still work really well.
We always place an advertisement in the local newspaper. Why?
We get instant feedback about whether our business idea is a hit or a miss. We had one idea which we tested with newspaper advertisements. I will share our strategy below. We got quite a few responses to this advertisement and so we decided to go ahead in a big way. We ended up getting an office space eventually.
We could control the number of clients we worked with. Initially, we were trying to manage both a traditional job and a side hustle. Having a paper advertisement we could simply stop placing the advertisement when we had enough clients or when we had deadlines to handle at our job.
There were many business ideas which basically did not take off and we were grateful that a little money wasted on advertisements, saved us a lot of money.
For the paper advertisements, our strategy was to place the advertisement on the days when people are looking for such services.
Our paper agency knew exactly which days our advertisements would work.
We also had a fixed budget so we had to decide on a couple of things.
Which paper to place an advertisement on. We found a paper that had an okay reach and was read by the type of clients we were looking for. ( Ask your agent who takes down the ad copy, he will know this)
Which language we would place the advertisement in. For our business, it would be in English ( which helped us eliminate popular newspapers in the local language)
Which areas or localities we needed to reach. This will dramatically affect your costs. We selected business localities and focused our efforts there. For another business we were targeting students, so we selected localities we knew had students.
We ran the advertisements consistently. Every week on a particular day, our advertisement would run. When people noticed that we were consistent and were placing advertisements every week without fail, they had faith that we were genuine. Some people even kept clippings and mentioned that they called us after a couple of months because they saw our ad every week.
Online Classifieds
When we mention this, people roll their eyes. But it still works. So here is my strategy to make sure it works always.
Search for the terms your customers would be looking for in Google. Say you are into renting houses. Search for what your customers would be searching for.
In the example below I searched for the keyword "rent a house in Mumbai". You will find all the classified websites rank for such terms.
This is my strategy.
I create an account on each of these websites and place an advertisement.
Why reinvent the wheel… just piggyback on what is working.
Each of these websites ranks high on Google. They have teams of SEO guys working day and night to rank their website. This is the best way to use their expertise for free.
This is the exact same strategy we used to land many clients who paid us good money. Yes, there were times we got false leads and had to deal with spam.
Small Business free Advertising Ideas
Here are some other free advertising ideas. There are many other free ways you can advertise your small business. Actually there are tons of ways and we are just listing a few here.
Just get creative and use all your skills to get visibility for your business. At one point we have used these strategies as well.
Join Rotary Club, Merchant Associations, Speakers Club, Local Business Charters. These are excellent to connect and network. We got one of our major clients from one such venue.
Volunteer your time and money. We would conduct free sessions to help underprivileged kids which were our passion.
Social Media
Social media platforms are very good for generating sales and for brand awareness. They are also a time sucker and you can end up wasting a lot of time on these platforms.
I have stopped wasting my time on these platforms and perform minimal tasks on them. Surprisingly the less I started doing, the more I started receiving.
I will share my secret strategy below.
Social Media was a good investment before. Investment of time, energy and money (on ads).
Now I do not find the ROI and so I recommend you understand your business and decide if it is really worth your time on these platforms.
How I use Social Media ( my super-secret strategy)
I generate leads for my small business using social media. Let me share one way you can use it for your business, blog or vlog.
Facebook
While I have stepped away from Facebook, I do occasionally use Facebook. This is how I have automated leads from Facebook. I am not active on Facebook and I check on my pages and groups sometimes in 2 to 3 months or even more.
Yet I get steady traffic from it.
Facebook Pages
Create a Facebook Page for your business. Use the same name you used for Google My Business Listing. It has to be exactly the same ( even with uppercase letters, comma everything).
While registering on Facebook pages, select the local business option.
Add a facebook header image, logo, include your keywords in about section and link out to the website. Add your phone number, business timings. Make a couple of posts using hashtags relevant to your niche.
To wrap up, keep these in mind
Ensure Business Name is exactly as on your Google MyBusiness Listing
Optimize your profile
Use industry-relevant hashtags which are generic while making posts
Try to upload videos and content into Facebook rather than linking out for more reach
Share all your new blog posts, and articles once you publish.
I do not spend too much time on Facebook as this is not a very good source of traffic for my business. You can use facebook ads to generate leads if you think this platform is suitable for your business.
Pinterest
Pinterest is by far the best way to promote and generate leads 24 * 7 for your business. I highly recommend going through my articles on Pinterest to understand how this works.
Video Marketing
Videos are an excellent way to generate leads to your business. I have generated tons of leads if that is a word. And the best part is I get leads for months and years.
I have some articles on vlogging and youtube you can check for more information.
Blogging
Blogging is another way I generate consistent leads for my business, blog, and vlog. I have a step by step guide to help you get started. I have found that blogging coupled with Pinterest is really powerful as of now. Things change so fast in the blogosphere. As of now, you should focus on
Save this post for Later to your Business Board on Pinterest