I want you to follow me along as I review the Income School Project 24. I am planning to blog as often as I can and share my progress. So you will find analytics, videos and what is working, what isn't …
This is what you can expect to find in the Income School Project 24 Review. You will watch me take my blog through the 60 day plan they have laid out. I discuss what I am planning to do, I share my progress. I will share the modules as much as I am allowed to.  
You might be wondering why is she sharing this?
Well, this is the only way I can track my progress. Most importantly I want to hold myself accountable. I have this tendency to start something and then go slow… I am hoping to stick to this for as long as it takes.
What is Project 24
Project 24 by Income School is a step by step program to start a blog and generate income from it in 24 months. Now let me clarify, this is income which will replace your present income.
Don't have a Blog Yet?
Check if your domain is available for FREE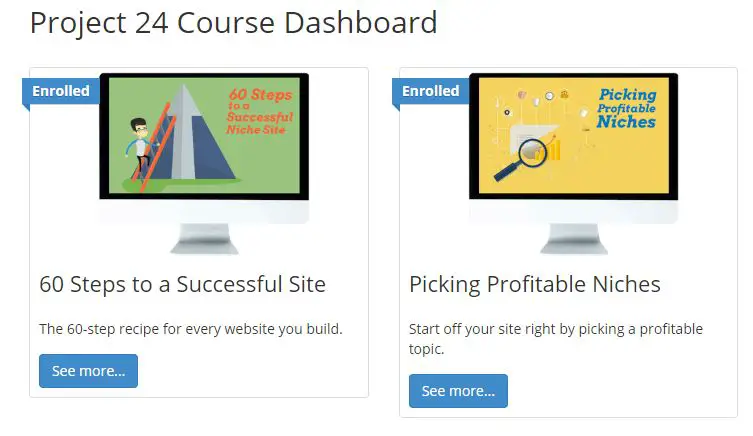 Anyone can make money from a blog. I have been a blogger for some time now. I made money, then I lost money and I almost felt like blogging was like a gamble. Making consistent income from a blog is much different than small wins.
My strategies laid out in my book are making me money, but I still want to up my game. I want to really understand what is it that can make this a passive income and sustainable.
I was shocked…
When 'I went through the 60 Steps I was stunned when they mentioned simple steps to selecting a niche, SEO and writing. Let me explain what I meant by being shocked.
I have been working as a marketer ( kind of) till I had to quit due to health reasons. I am not a newbie to SEO. But when I saw their video on SEO I was shocked. They simply washed away all my knowledge and stripped it down… It was as if I had to relearn SEO.
Not only that I had to relearn topic selection, article writing..
My first impression was … are they serious… it is too simple and straightforward.
Well that is the point, making money from blogging, need not be complicated.
I no longer recommend Project24 by Income School.
Day 1 Project 24
I purchased Project 24 Yesterday. Day 1 is about going through the videos and understanding the content.
Action Step #1 Picking Profitable Niches
I started Day 1 going through the first video in the Project 24 60 Steps course.. The video is 51 minutes 20 seconds long. So Yes it took me quite a while to watch the video.
It is very tempting to skip it, but this is the foundational video. You get the first few steps wrong, you will mess up everything.
They have provided a spreadsheet with niche ideas. I went over to the spreadsheet and found several niches which I am interested in. I have picked one for now. I might expand into the others once I am done with the first site.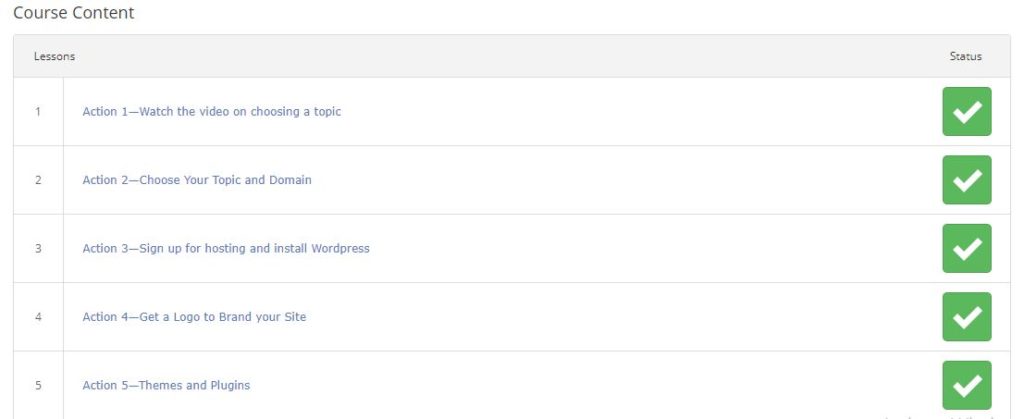 Project 24 60 Steps
If you are a new blogger there are many steps for helping you setup the blog. This includes domain selection and hosting.
They have their affiliate links in these courses.
What is it with course providers… they are making a huge income upfront and then they need to get even all minor commisions.
I will have to contact my hosting provider regarding the step they mentioned and fix it. I am all set for the next step … whew..
Setting up WordPress
The course also helps through wordpress setup.
Not very fancy but will help.
They gave me a plugin… wow this is awesome. I was looking for such a plugin but most of them are priced very high and some even have recurring costs. I am very happy to have this plugin and will install it and update the progress in future posts.
Project 24 Income School Theme ( Its FREE)
A theme is being launched by Income School which is FREE for Project 24 members. You can host it on any number of websites, there is no limit.
So they gave us the theme for FREE for the members to test. I was so thrilled to get it in the beta stage.
After installing the Project 24 theme I have noticed some major stuff which is worth mentioning.
My Site speed increased a lot. It was very bad initially ( in the 20s), it went to 80. Then it decreased a bit after I installed ads to between 50 and 60 which is very nice.
I started having glitches with the theme.
My site speed fell and became very slow.
I did contact customer support. Eventually I figured out the issue myself.
If you have plugins installed they start conflicting with Acabado.
So I deactivated all my plugins, and activated one by one… till I found one which was conflicting.
Eventually I ditched the Acabado theme as the site became slow.
Since I did not renew my membership I wouldn't have had access anyways.
The Most important thing for me is that my traffic increased. Look at the picture below.

You can see a bump in traffic towards the right. In the bottom is a small bubble which is an annotation I added in Google Analytics. That was the day I changed the theme to Income School theme.
Almost instantly my rankings started improving and my visits have reached a new level.
Traffic has increased and my pages are getting more visibility. I also made more sales this month.
I think this might be all related to site speed. My visits are mostly from mobile and from India.
Since the page speed increased, my pages load faster, this has pushed my rankings higher.
I am so excited to see how this improves over time as I add much more content.
What is Special About the Income School Theme?
The Income School theme is brilliant. You should try it and see for yourselves.
One Click Install – When you install the theme, the theme recommends the required plugins. There are very few required and you can install them with one click.
Site Speed Increases – The site speed increases almost twice if not more. If you have adsense or third-party ads installed, it does not increase a lot but it still boosts.
Increased Traffic to Website
Increased Revenue
Jump in Website Rankings
FAQs
How much does Project 24 Cost?
Project 24 costs $449 for 1 year. Then you can stay in the program for 199 / year. They keep updating the program. I joined in December, and within 6 months I received a lot of extra things in the Library.
They keep adding sub courses which is really helpful. The most important update for me was the new method to find keywords or terms to rank for.
I used it hesitatingly actually, as I had initially had assumed they keywords which they said were OKAY to be competitive.
I started ranking on page 1 and for some I have the number one spot.
I was not expecting this at all…
The Project 24 Cost will increase in the New Year, so be aware of that. It is a good course if you want to start making money from a Blog using evergreen techniques.
Income School 60 Steps – What are they?
There are 60 Steps laid out. You can do one step a day or a couple of steps in one day. Just go by your schedule. 
I want to start seeing results fast. So I am trying to rush through these steps as quickly as I can. The Action Steps I have mentioned above are the 60 Steps. So I will update Action Step 7 onwards in the next blog post.. else this post will go on forever.
The entire keyword research and how to write blog posts can be summarized in these videos on their YouTube channel.
I have shared them below.
How to analyze the competition for a website
The Keyword Research Process
How to Write the Blog Post
Update:
Their search analytics was an eye opener. But that information is freely available in their youtube channel.
Also I found it online in some other website in some old article. I am still trying to find that article.
I no longer recommend Project24.
If you want to understand how to do the steps watch the videos on their channel. Everything is there for FREE.
After that check this blog course. it is much better.
Check this Blog Course, its better and cheaper and provides more value.