Music Flower Gel Eyeliner
Click to Buy Music Flower Gel Eyeliner
I purchased Gel liner just because I was finding it very difficult to use a liquid eyeliner. Also most eyeliners were wearing off very fast or would smudge or would just look faded.

When I heard about Gel eyeliners I purchased this eyeliner to get an idea about how they are and whether I would be comfortable using it.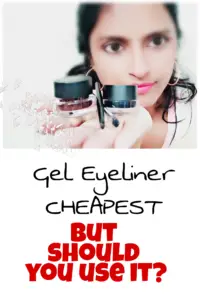 Music Flower Gel eyeliner review

Gel eyeliner Price Gel eyeliner Price
At the time of writing this post it costs Rs. 182
Ingredients
Dimethicone
Dimethicone is a silicone based polymer or simply silicone oil. This ingredient ensures smooth application.
From what I have researched it does not clog pores. It is hypoallergenic, noncomedogenic and nonacnegenic.
If you have dry skin this can make it worse. Also it does not sink in and nourish the skin but rather forms a plastic barrier on skin.
Ozokerite
Ozokerite is a mineral wax. It used as a binder and prevents emulsions from seperating into oil and water. It is organic but it said to be a heavily processed material.
Hydrogenated Polyisobutene
This is a synthetic oil which is often used as mineral oil substitute. This is an emollient and has moisturizing properties.
Propylparaben
It is a paraben, can be carcinogenic if used in larger quantities. Please do you own research on this.
How to use Music Flower Gel Liner
Here is a quick tutorial on how to apply gel eyeliner.
Apply concealer or primer on upper lids and also around the eye, I apply on the undereye as well. Blend in the concealer ( the concealer I use ).
Don't use a setting powder as this might cause the gel liner to clump. We want it to glide on and not clump.
How to use
How to apply gel eyeliner
How to clean gel eyeliner brush
How to clean gel eyeliner brush
You can clean the gel liner brush using many cleaners you might have at home.
Clean the brush after every use.
Here are some options for you.

Baby shampoo
Take a little amount of baby shampoo in your palm.
Mix in water.
Swirl your brush and clean it.
Rinse off and let it dry
Dish soap
Dish soap can remove all oils and kills bacteria. Take a small drop of dish soap in your hand mixed with water. Clean the brush and then rinse off and let it dry.
Makeup wipes

This method makes it easier. Just use you favorite makeup wipes to clean off your brush as well.
Makeup wipes do a good job of removing makeup hence use them to cleanse of the gel liner.
Just wipe off the brush after every use or at the end of the day.
How to revive gel eyeliner that dries up
How to revive gel eyeliner that dries up
Gel Eyeliners do tend to dry up and depending on the brand you have purchased they can be very expensive to purchase. Some easy and effective ways to revive your gel liner.
Eye drops
Add a few eye drops into your gel liner. Mix up with a clean brush and its ready to use.
Warm water bath
Take water heat it up to approximately 65 degree C . Take your gel liner pot and add it to the water in a tightly sealed bag.
Oil
Oil can clean almost anything. I use it to clean light switches to bathroom fixtures and now I use it as a part of my beaty regimen. Take a mild non scented oils like coconut oil, jojoba oil or baby oil. Use it to clean the brush.
Store the gel eyeliner bottle upside down. The moisture and oils go to the top which are required to prevent the gel from drying. Also keep a plastic sheet in between cap and gel. This will seal all oils and moisture in, preventing it from evaporating.
Can gel eyeliner be used as a kajal
It is advisable not to do that. Eyeliner gels can be harsh, most might not have organic compounds and cause dryness, itching and ageing.