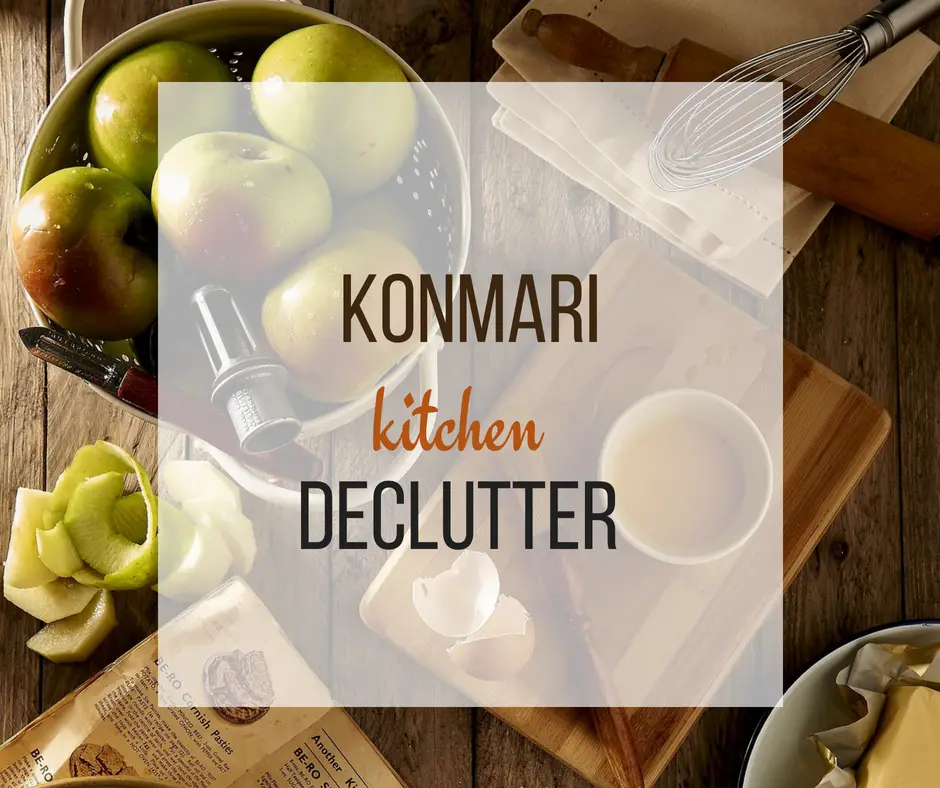 Konmari Declutter Kitchen – Easy, Simple and Effective
I would enter the kitchen and feel overwhelmed. Every morning I would dread getting out of bed as I hated having to clean the kitchen and come face to face with the mess and chaos. For years I was not understanding why I did not just jump out of bed with enthusiasm for the day. When everyone  spoke about morning routines it did not motivate me at all. It was for others I always assumed, not for me.
That was until I made many changes in my lifestyle, my house and embraced some new concepts and ideas. There were
6 Habits that changed my life
. I had to analyse my lifestyle and found that cleaning, cooking and the clutter were getting to me. I worked with the Flylady system to come up with
10 Everyday Habits to clean my house
. I embraced the concepts of Minimalism ( not all) and also used Marie Kondos Konmari method to declutter and organise my house.
Hello there, I would like to introduce you to the konmari method for the kitchen. Before that I would like to share with you why konmari works.
Why konmari works
After having read numerous blog posts, watching endless videos and some soul searching on my own this is what I feel. My life was all centered around cleaning, parenting, trying to be a good mum and in all this I was losing myself.
I really felt overwhelmed and I was trying to fill in many roles and accomplish many things. This took over my life, my consciousness and depleted me of energy. Other mothers seemed to juggle  home life,  work life and personal life and I was on a quest to find out how.
Right around this time konmari happened.
Why konmari works is because it helps you simplify your life, cut through the fluff  ant helps you figure out what really matters. Most people who have tried and implemented konmari, have always mentioned how konmari has simplified their life and thoughts.
When you cut through clutter, bring in simple processes and when you sort out your priorities, magic happens.
When you tackle one part of your life eventually it'll be a catalyst in simplifying all parts of your life.
Everything will fall in place.
So how do you konmari ?
Konmari for kitchens / Konmari in the kitchen
Marie Kondi has laid out the entire blueprint in her book. In her book she first explains the process. You will also understand what is expected and what steps to take next.
A lot of thought process has gone into these categories. You are guided to begin from the area in your house which is easier to let go and move onto categories which are hard to work with ( sentimental stuff).
What is the konmari method of decluttering?
In this method you go through various categories like clothes, followed by books and then papers and so on.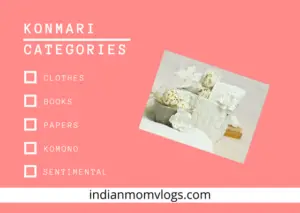 When you are in a category you will get all the items ( from everywhere ) together.
You really MUST get all items of the similar category from everywhere.
So if we are looking at clothes you need to get them from the cupboard, from the washing basket, from the washing machine, drying rack, basement … everywhere.
It would be best to lay them down on the floor. Then you hold each item up and ask yourself does it spark joy. It could be that it makes you feel good when you wear it, the colors and texture of the clothing makes you feel so happy. If it sparks joy, keep it aside, Discard the rest.
You will notice that you might have been holding onto stuff for long and you actually hate wearing them. It has happened to me.
Before you start the kitchen you must follow the konmari method in the other categories.
Category 1 – Clothes
Category 2 – Books
Category 3 – Papers
Category 4 – Komono ( Miscellaneous)

General
Kids
Office
Kitchen
Bathroom

Category 5 – Sentimental Items
In Mari condos konmari method there is a category called komonos or miscellaneous. The kitchen falls into this category.
Note: Follow the method mentioned in the book.
When you start with the clothes, books and then the papers, you will start understanding the process.
A kitchen has many subcategories and it makes it very difficult if not impossible if you start in the kitchen.
So before you start the kitchen you have to implement the konmari method in the other categories first.
Too many subcategories can overwhelm and you will most likely quit. Once you work in the other categories you will also learn figure out subcategories.
This will be needed when you work in the kitchen.
The kitchen categories
Eating – this category includes everything which is required when you eat.
Cooking – this category includes everything which you require when you cook or bake.
Food and storage – this category spices pantry, the fridge and storage containers.
I have seen people searching for Konmari kitchen drawers and Konmari kitchen utensils.
Categories NOT Location
You must remember that konmari method is based on categories and not on location. You cannot go by Drawers, cupboards et cetera.
Now we know the various categories let's get started the konmari kitchen.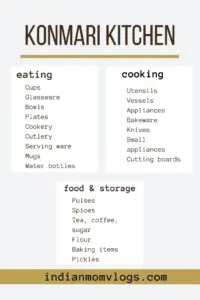 Konmari kitchen method
The konmari kitchen method includes the following steps:
First tidy by category and not by location
Second tidy in the right order
Tidy all at once
Put everything on the floor
Ask yourself does it Spark joy
If not say thank you and discard
Designate a space
Konmari kitchen tips – Keep the fridge as the last subcategory.
I started with the cooking section. I pulled out everything which can be used for cooking.
This included the following:
Utensils
Vessels
Appliances
Bakeware
Knives
Pots and pans
Baking trays
Baking Accessories
Oven mitts and dish towels
Small appliances
Mixing bowls
Steam baskets
Cutting boards
I only kept those which I would use and most importantly which sparked joy.
Note: Add your own subcategories
Remember to get all the items from all the different places you might be storing them in. I was storing some in the hall, some in the kitchen and some in the pantry.
The next sub category for me was the eating category.
This included:
 Cups
Glassware
Bowls
Plates
Cookery
Cutlery
Serving ware
Mugs
 Water bottles
Note: You can add silverware, straws, chip clips to your subcategories
The next sub category is food and storage containers.
This subcategory for me included:
Pulses
Spices
Tea, coffee, sugar
Flour
Baking items
Pickles
Konmari YouTube kitchen ( Includes Before and After)
Once this was done it was time to move on to the fridge.
For the fridge
First I am emptied out the contents.
Wiped the fridge down with  white vinegar.
Sorted everything out
It did take a couple of hours to go through my fridge because I had a lot of stuff. There were many reasons including health because of which the fridge had been neglected.
It is advisable as I have learnt later keep the fridge only 70% full.
This gives it some breathing space and also you can quickly find a place for leftovers.